Operation Red Rabbit
---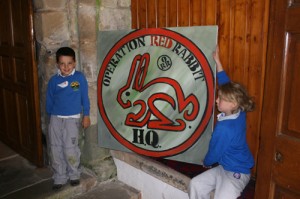 Wednesday 13th July saw Operation Red Rabbit swing into action in Tissington village. The story? An ancient treasure chest had been located by Agent Red. Could the combined forces of the children from Parwich and Fitzherbert Primary Schools solve the clues, work out the combination and get the treasure chest open to discover the treasure?
With St Mary's church transformed into the Operation's Head Quarters and activities setup at Tissington Hall and in the village hall, the 2011 Peak Five school's fun day saw around 100 children enjoying a day of craft and sports activities and drama workshops.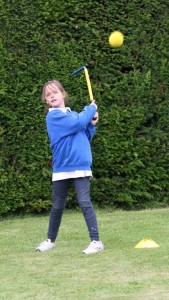 As the children worked their way through the day learning to make bath bombs and patterned glass coasters, enjoying fun golf games and learning new drama skills, Agent Red slipped in and out of the proceedings delivering the clues.
The day culminated in the unlocking the treasure chest full of party bags from Tissington's Edward and Vintage sweet shop.
Operation Red Rabbit was generously sponsored by Fizzpotz of Fenny Bentley, Glass @ the Barn and Edward & Vintage of Tissington, Story Moves and Tissington Hall. The event was conceived and led by the Peak Five group of Church of England churches with support from the Ashbourne Methodist Circuit. With around 30 volunteers supporting the day, the event was a real community effort.
All the photos from the day can be viewed on our Facebook page.